Description
Model Number
MCX-B5S1-KWNN-11
Available Color
Black
Materials
Steel body, Plastic mesh bezel
Dimensions (LxWxH)
All
500 x 220 x 475mm
Motherboard Support
ATX, Micro-ATX, Mini-ITX
Expansion Slots
7
Drive Bays
5.25″
Cages are sold separately
Combo 3.5″/ 2.5″
2
SSD
1
I/O Port
USB 3.0 x 2
Audio in / out
Pre-installed Fan(s)
Front
120mm x 1
Rear
120mm x 1
Fan Support
Front
120mm / 140mm x 2
Rear
120mm x 1
Liquid Cooling Support
Front
240mm / 280mm radiator, up to 50mm thickness without fan
Rear
120mm
Clearances
CPU Cooler
167mm / 6.5″
PSU
180mm / 7.1″
GPU
410mm / 16.1″
Cable Routing
Behind Motherboard Tray
25mm – 35mm
Dust Filters
Front, bottom
Power Supply Support
Bottom mount, ATX
EAN Code
4719512052679
UPC Code
884102028786
Exploring the Interior
The MasterBox 5's design and smartly placed tray cut-outs make light work of installing or expanding multiple interior configurations. Remove, slide and rearrange the internal layout to support larger, high-end components, air and DIY water cooling.



FOR MOTHERBOARDS
Expanding the Possibilities
Motherboard tray cut-outs creatively rearrange space for any size motherboard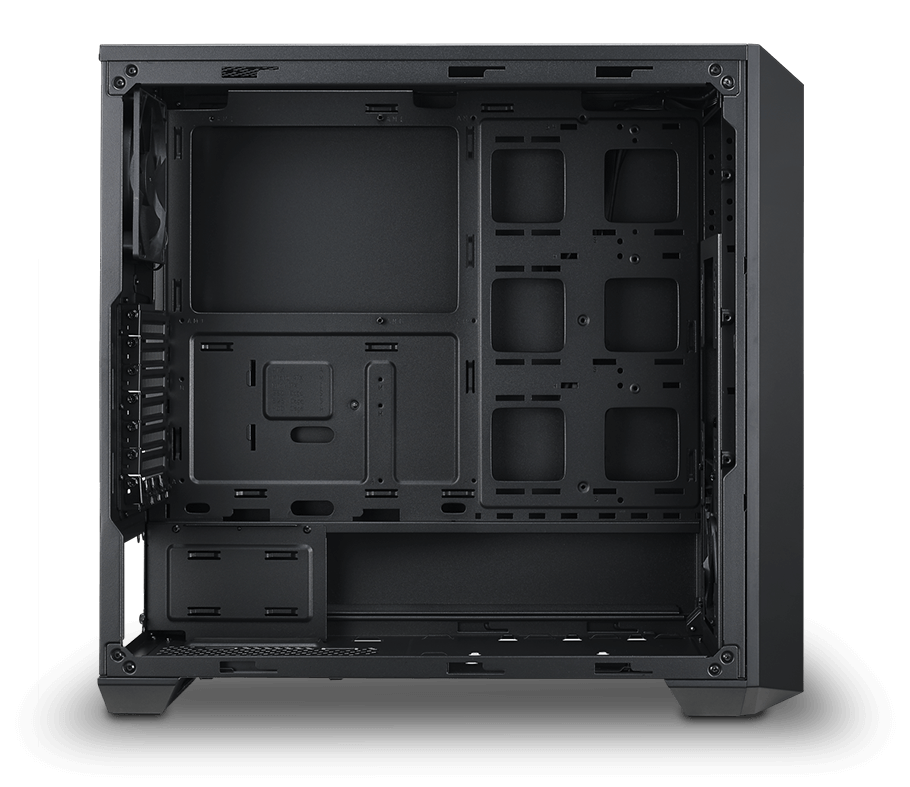 *Each slot supports one motherboard type
Expanding the Possibilities
FOR STORAGE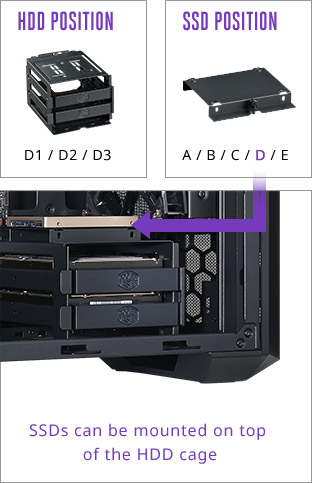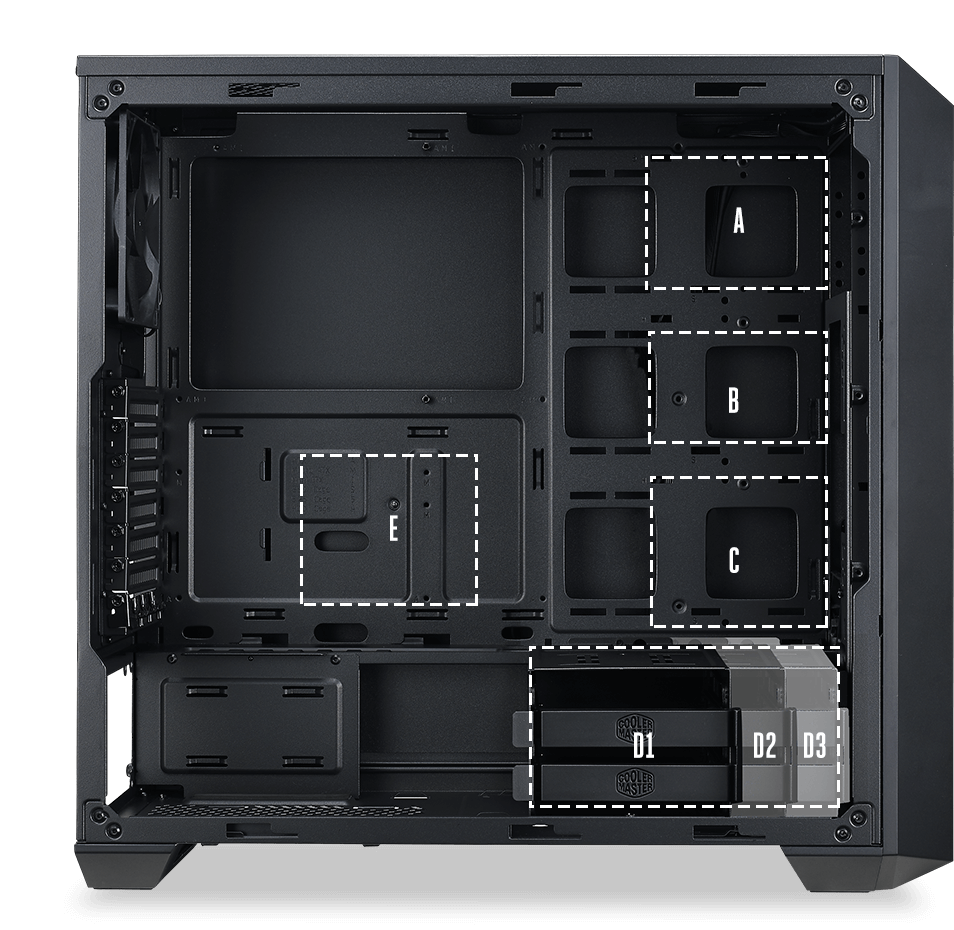 Tray cut-outs also allow for the easy mounting and rearranging of SSDs and HDDs across the motherboard tray, along the bottom shelf, or on the back side of the tray (for SSDs).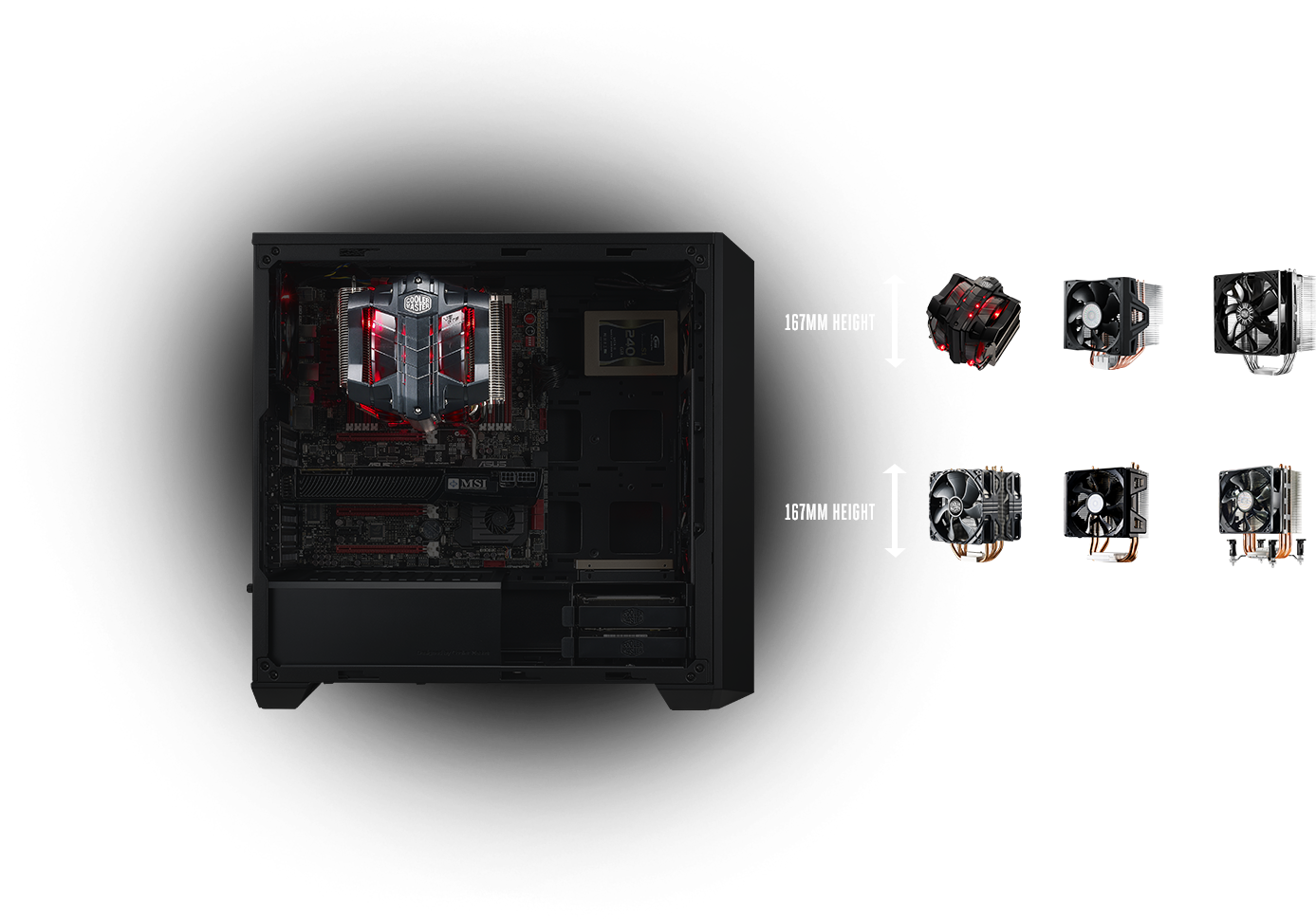 Expanding the Possibilities
FOR CPU COOLERS
No pushing! There's enough elbow room inside, even for beastly coolers.
UNMATCHED VENTILATION
FreeForm enables the option to install three front-mounted 140mm fans and a 280mm radiator for unmatchable ventilation due to a unique facility to horizontally shift the bottom-mounted hard disk drives. There's also support for up to six 140mm fans through the case, unique for a mid-sized tower.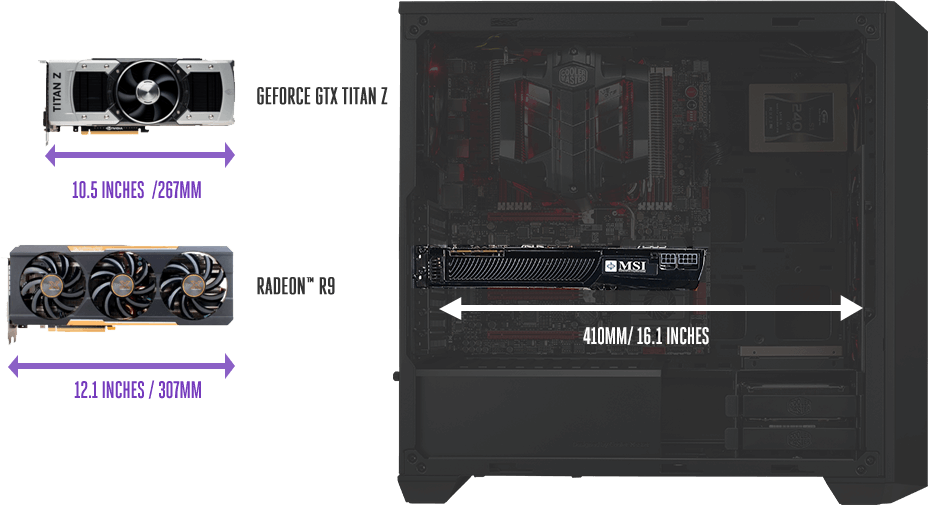 Expanding the Possibilities
FOR GRAPHICS CARDS
Titans have a place inside too. Or your next VR-ready GeForce 1080.